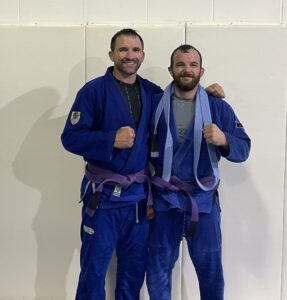 Hello everybody, my name is Dr. Josh Hammaker, PT, DPT. I am a physical therapist at Full Range Physical Therapy in West Chester and I am a purple belt in Brazilian Jiu Jitsu (I am pictured on the right). This will be the first of a series of blog posts related to Brazilian Jiu Jitsu and injury management. My hope is that through these blog posts, I can combine my 20 years of grappling experience through wrestling and Brazilian Jiu Jitsu with my background as a physical therapist to provide helpful information on improving your health while performing Brazilian Jiu Jitsu (BJJ).
For the first post of this series, I will discuss the importance of performing exercises before training or activity to improve your mobility and flexibility.  In BJJ, you can often find yourself in awkward positions that place stress on your body. One of the best ways we can decrease this stress and help reduce the risk of injury is by emphasizing mobility and flexibility improvements prior to starting class, practice, competition, or any other activity related to Brazilian Jiu Jitsu. Below you will find 5 examples of exercises geared towards improving your mobility. Keep in mind, this list is by no means a be all end all for improving your flexibility, however it can be a great starting point for your journey to prevent injury.
Having a routine prior to practice that is geared towards improving your flexibility and mobility should be an essential part of your routine. Improving these aspects of your health will not only reduce your risk of injure, but also improve your ability to perform maneuvers such as the berimbolo, inversion, triangles, and numerous other techniques. I hope that you found this blog helpful, and please feel free to reach out to me via email at joshua.hammaker@fullrangehealth.org or phone at 610-241-2685 if you would like more information.  Want to schedule a visit, go to https://www.fullrangept.com/schedule/!